Cakes and Cupcakes
Yes, we DO make vegan cakes, cupcakes and fruit filled tarts- we get that question a lot!
Our most frequently ordered cake is a 6" three-layer cake with basic decorations. All cupcakes are ordered by the dozen. Starting at $33.
Flavors
Oreo
Red Velvet
Vanilla
Chocolate
Chocolate Espresso
Chocolate Chip
Cinnamon
Funfetti
Lemon
Carrot Cake
Strawberry
Frosting
Vanilla
Funfetti
Chocolate
Peanut Butter
Cookie Butter
Cinnamon
Maple
Oreo
Oreo Creme
Rose
Orange blossom
Sizes
Rounds are available in the following sizes and Include sprinkles and writing. Gold leafing or other decorations are at an extra fee. All cakes are 3 layers, take off $5 for two layers:
4 inch Starting at $45 – great for smash cakes!
6 inch Starting at $55 – heart shaped available
8 inch Starting at $65
10 inch Starting at $75
We can add fruit, ganache or a flavored pastry cream as a filling between layers for an additional fee. Be sure to ask for more details!
Specialty flavor combos
6 inch 3 layer cakes
Strawberry crunch $63
Strawberry cake and vanilla frosting filled with fresh strawberry coated in our strawberry crunch crumble
german chocolate $65
Chocolate cake and chocolate frosting filled and topped with creamy coconut and pecan lightly coated in coconut shreds
Carrot cake $65
Classic carrot cake and cream chez frosting lightly coated with crumbled pecans
Chocolate Peanut butter $65
Chocolate cake and peanut butter frosting dripped with chocolate or peanut butter and topped with peanut butter buckeyes
Cookie butter $60
Cinnamon cake and cookie butter frosting coated in cookie butter crumbs topped with whole cookies
Oreo $60
Oreo cake and Oreo cream frosting dripped chocolate and whole Oreos on top.
Boston cremé $67
Vanilla cake and whipped vanilla frosting filled with vanilla party cream and topped with a chocolate ganache
Key lime pie $67
Lime zested vanilla cake and vanilla frosting layered with pie crust crumbles topped with a house made marshmallow fluff toasted on the outside lime zest and more pie crumbles.
Recent creations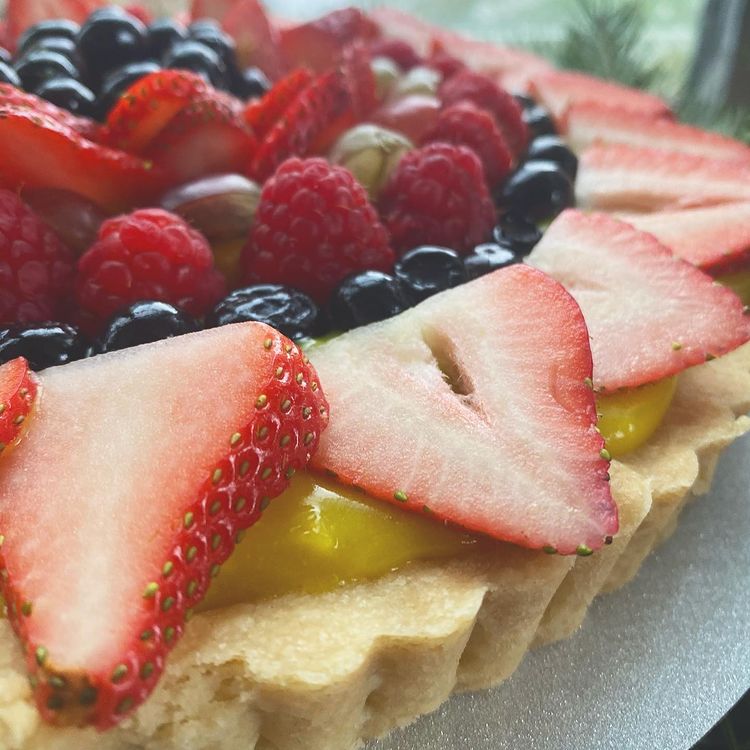 Frequently asked about cakes